More Donor Stories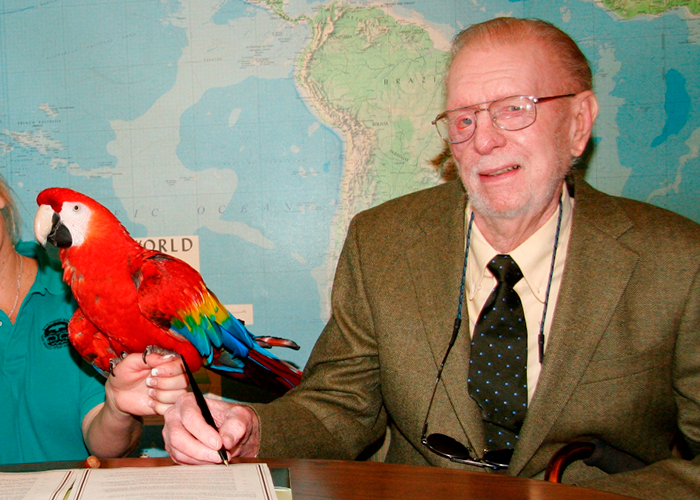 Wallace G. Henshaw was a quiet, unassuming man with a big heart, a concern for the environment, and an affection for cheetahs. As a longtime San Diego resident, "Wally" was an avid zoo-goer who began excursions to the San Diego Zoo with his beloved late wife, Barbara, in the early 1960s. Since that time, Wally's interest in the Zoological Society of San Diego and our conservation efforts grew to the extent that he endowed two prominent positions: associate director for Reproductive Physiology, Institute for Conservation Research, and curator of mammals at the San Diego Zoo Safari Park.
Born in Pasadena and educated at Santa Monica College, Wally was an electronics engineer by profession who moved to San Diego to work for Convair Aeronotics in 1960. When Convair downsized in 1969, in spite of job offers elsewhere, Wally opted to stay in San Diego, which had become his adopted hometown. While Wally was contemplating his future employment in San Diego, he and Barbara embarked on a two-month-long road trip through Mexico, where they eventually traveled more than 8,000 miles in a camper. Only two hours into the trip, though, Wally and Barbara decided they would pursue an occupation in real estate investing, having sold an apartment building prior to going to Mexico. Upon their return, they promptly purchased more apartments in Pacific Beach.
With their spirit of adventure and Wally's passion for photography, the Henshaws traveled the world to unique, faraway places such as the Middle East, the People's Republic of China, and Africa. It was during their first safari in Kenya that Wally developed his fascination for cheetahs. The Henshaws' second African safari was a Zoological Society trip led by Dr. Werner Heuschele, the late former director of the Institute, who piqued the Henshaws' interest in protecting the Earth's wildlife and in the Zoological Society's international conservation efforts.
It seems only fitting that, years later, the Henshaws' successful real estate investments have now been committed to fund programs that were near and dear to Dr. Heuschele's heart. Through the use off a Charitable Remainder Trust, Wally was able to divest himself of highly appreciated property without the impact of significant capital gains. Most importantly, he secured a lifetime income for himself and created a permanent source of funding for two important positions for our scientists at the Zoological Society of San Diego. For this we will be forever grateful.
Endowments are gifts that keep on giving in perpetuity. They offer that possibility because gift principal remains untouched—only the income is used to support charitable programs. In a sense, the permanence of endowment gifts can even confer a touch of immortality upon the donor.
More Donor Stories