More Donor Stories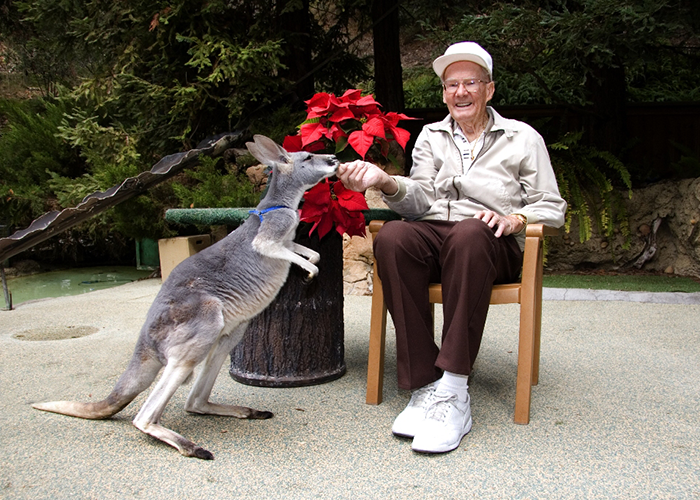 For more than a quarter century, benefactor John Kasten has held a special place in his heart for the San Diego Zoo, Wild Animal Park, our staff and of course, the animals. The generosity of John and his beloved late wife, Clare, has touched nearly every area of the Zoological Society. Whether they were supporting a conservation expedition to New Guinea, funding the acquisition of animal ambassadors for our shows, outfitting the Zoo and Park veterinary hospitals with the most technologically advanced equipment available or sponsoring an entire surgery suite, the Kastens have always been there for us in our time of need.
John invested in the Zoological Society's Pooled Income Fund, but in addition, he annually funded a "wish list" of Zoo and Park items right before the holiday season. "I know I am helping the animals; I feel good about it; and I have made dear friends along the way," said John, who enjoyed meeting our ultra-friendly critters like Kasten, a caracal named in honor of John, and Karroo the cheetah.
Although John and Clare began their philanthropic relationship with the Zoo after reading a newspaper article in the 1980s about the need to upgrade animal enclosures behind Wegeforth Bowl, John recalled frequent visits to the Zoo many years before that. He remembered the Zoo entrance when it was located where the Children's Zoo now sits, and how, as a young fireman, he could enter for free if he wore his uniform. He also had the honor of meeting Mrs. Belle Benchley, the Zoo's famous female director, by the bronze gorilla busts that are near today's main entrance.
We thank John and Claire for being such a special part of the Zoo's family.
More Donor Stories