More Donor Stories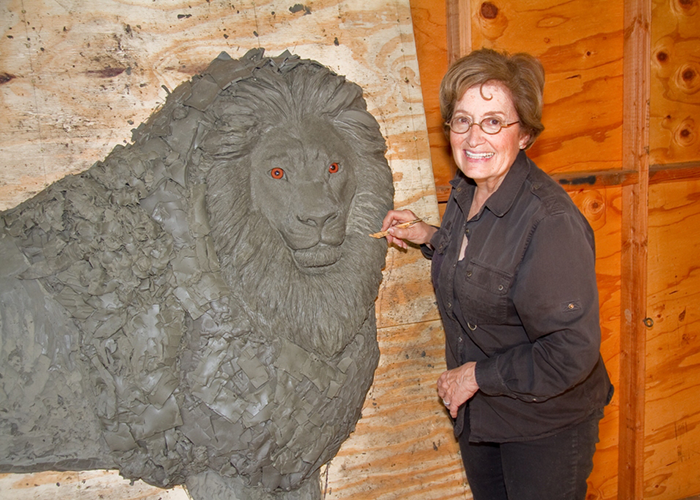 Some individuals have a great capacity for doing many things well—we call it multitasking. So when you meet Sandra Brue, don't be surprised to learn that she serves as an officer on San Diego Zoo Global's board of trustees, has been asked to head up ZOO 100, and was also selected to sculpt the iconic life-size bronze lion symbolizing this major fundraising campaign celebrating the Zoo's upcoming centennial in 2016. For Sandy, a superb wildlife artist for 33 years, accepting this commission was both exciting and daunting. Sculpting an animal is always a labor of love for her, although this lion was truly special: "I am honored to have my sculpture represent ZOO 100, an endowment I believe in and support."
Her earliest childhood memories are of visiting the San Diego Zoo with her family in the late 1940s. There's a great photo of Sandy, age 3½, standing with her mother and cousins in front of the Andean condor exhibit. It's a sunny day and everyone is smiling. Today, decades later, Sandy is still a lifelong fan of the Zoo and its animals as well as its conservation mission—and she is still smiling!
Since the early 1980s she has been part of the Zoo's family of friends: there are no major exhibit projects that Sandy has not supported. During this decade she also launched Sandicast, Inc., where her love of animals and artistic talent helped her create hundreds of hand-cast animal sculptures. When Sandy began to sculpt exotic wildlife species, she knew she had to "experience animals in person" before she began the design process. The next step was visiting the Zoo or Safari Park so she could observe each species before beginning to sculpt. Next, her wonderful Endangered Species Collection sculptures were donated to the Zoo as Circle of Friends recognition awards. Sandy reveals that when she went from being a visitor to a trustee, she learned how the Zoo operated and was impressed by our keepers' dedication to provide the best possible animal care: "It made me fall in love with the organization." She also appreciates the Zoo's efforts to host thousands of students from city schools each year. Children are captivated by animals, just as she is every time she sculpts an animal.
All these experiences led Sandy to become one of the first to join ZOO 100 with an irrevocable estate gift and then was named campaign chair. She also notes that few organizations endure for 100 years. Sandy believes in the Zoo's legacy of excellent animal care as well as a far-reaching conservation mission to bring species back from the brink of extinction. She also knows that investing in this endowment will have a tremendously positive effect: "Through ZOO 100, we can ensure that the Zoo will continue its excellent care of animals and its dedication to wildlife conservation." For that young girl who came to the San Diego Zoo and fell in love with animals all those years ago, there could be no better role.
ZOO 100 is an extraordinary opportunity to celebrate the centennial of the San Diego Zoo while investing in our next 100 years. As a ZOO 100 member, you will help us create a substantial endowment that will provide a secure future for our unparalleled animal and plant collections.
More Donor Stories