More Donor Stories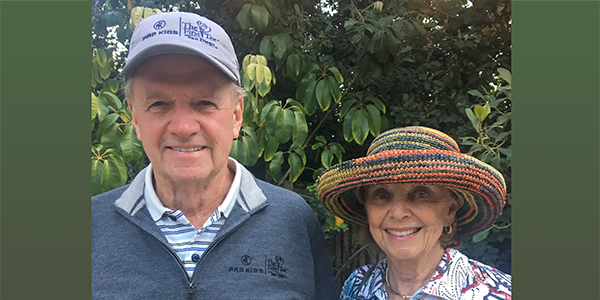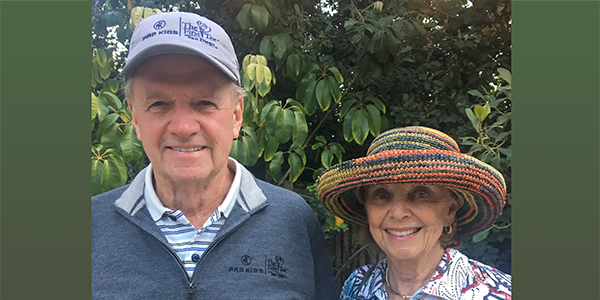 By Mary Sekulovich, Senior Editor, Development Department
As native San Diegans, Nancy and Chuck are also longtime San Diego Zoo members who are now part of President's Clubs. In fact, Nancy says, "I can't remember when I wasn't a member!" After meeting at San Diego State University, where she majored in Social Science and Spanish and Chuck majored in Marketing, they married and became Zoo regulars as a couple.
Nancy says they have supported Kicks for Critters and all the recent major exhibits like Elephant Odyssey, Tiger Trail, Africa Rocks, and Walkabout Australia with Platypus Pond, as well as the Dickinson Family Center for Lifelong Learning.
They both said they feel more connected than ever to the Zoo and Safari Park, marveling at the quality of the natural habitats and the superb attention to detail. For them, Tiger Trail is still astonishing, inspiring, and thrilling to walk through as they watch other guests reacting to the big cats. Recently, they witnessed one little boy who was so excited to see the two cubs playing, young Moka and Rakan, that he was literally jumping up and down, just a whisker away from them and separated only by the large viewing window.
Now Nancy and Chuck are excited about supporting a specific wildlife conservation project-Andean bears. The idea of an IRA Charitable Rollover was new to them, but they quickly realized it is a great way to make a significant gift to the Zoo while providing some nice financial benefits: the amount of the gift is not counted as taxable income for the couple, but it does count toward their IRA's required minimum distribution. An IRA Charitable Rollover was a great way for the two retirees to support Andean bear conservation in Peru.
They have traveled to Peru in the past and feel connected to the region. Also, Nancy believes the Andean bear project may not get the attention it deserves. As the only bear species in South America, these bears are struggling to survive in some regions as their habitat disappears and their food resources dwindle. After meeting with Russ Van Horn, Ph.D., the lead researcher for this project, and hearing about his past work with Andean bears, the decision to support this effort was easy.
Chuck and Nancy also had an amazing trip to South Africa where they encountered large troops of baboons, forded a stream teeming with Cape buffalo, and observed a lioness bonding with her cubs. While they loved this "wild" perspective of native animals, they also love focusing on the Zoo and Safari Park, where they can show off both parks to their godchildren and other friends.
As they reminisced, Chuck remembered his own piece of Zoo history: he met Lester Wegeforth, Dr. Harry's younger son, when he brought his Rolls-Royce to Chuck's company to be upholstered. Nancy mentioned Zoo favorites over the years, like Gregory Peccary, Chester the Alaskan brown bear, and Albert the lowland gorilla. Now they enjoy meeting Walkabout Australia's animal ambassadors, including Wali the blue-tonged skink and Nod the sugar glider, as well as anticipating when wallaby joeys will emerge from their mothers' pouches. Once again, they're looking forward to new exhibits and meeting many more animal friends.
More Donor Stories