More Donor Stories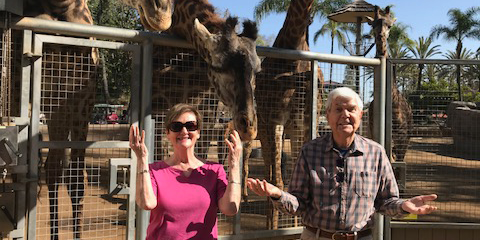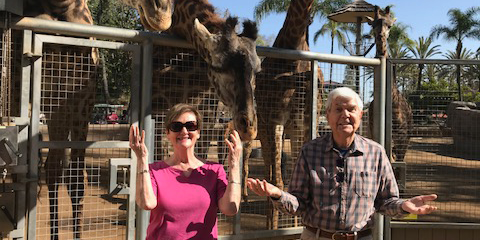 By Mary Sekulovich, Senior Editor, Development Development
The office can be a good place to make friends and it can lead to a great partnership or marriage. As longtime County and City of San Diego employees, Janet and Bill had varied careers that sometimes overlapped in offices of the County Assessor, Planning Commission, Ethics Commission, County Public Works, the former City's Property Department, and the Police Department. In fact, it was while Janet was on the Planning Commission staff that she first met Bill.
Bill is a native San Diegan whose father's family came over from Scotland and eventually settled in San Diego, while Janet is "practically a native" and lived with her family in Clairemont. Janet graduated from Clairemont High School and obtained her Bachelor's degree from Cal State San Marcus University. Bill is also an Army veteran who later graduated from San Diego State University on the G.I. Bill and obtained a commission in the Air Force, eventually leaving the service as a Captain in 1963.
Both have a great love for the Zoo, and Janet says, "We have been members forever!" (They began a dual membership in 1975, and they are recent members of President's Clubs.) When Janet was a city employee, she had free admission to the Zoo, which she often visited with her daughter. Bill was connected to the Safari Park (known then as the Wild Animal Park) through his job, which handled the lease agreement that provided the transfer of rights to the Park, located in the San Pasqual Valley, before it opened in 1972.
Bill and Janet are devoted to the Zoo. She loves the primates, and they both love elephants. They described seeing elephant calves playing at the Safari Park and how much they enjoyed the experience. Janet says the Zoo and Safari Park are wonderful places to bring their four children, five grandchildren, and three great-grandchildren.
We discussed how they recently made a gift to San Diego Zoo Global through an IRA rollover. Bill mentioned a colleague who said you can directly gift money from your IRA to the charity of your choice while also reducing your taxable income. They love this way of giving?it makes it so easy!
Their gifts have included both the Zoo and the Safari Park, such as support for Africa Rocks, the upcoming Children's Zoo remodel, Walkabout Australia at the Safari Park, and the Northern White Rhino Initiative through the Institute for Conservation Research.
Just as we completed the interview, Bill mentioned a great piece of Balboa Park history. When he was 8 years old in 1935, the California-Pacific International Exposition was being held in Balboa Park. On his mother's side, several family members all worked at the Café of the World, and he even has a panorama photo of the Café's interior, which he will donate to the Zoo's archive. In addition, he has one of the original menus, "The DAYS of 49," which he will also donate to the Zoo's archive.
It's not every day that you can meet someone who experienced San Diego's spectacular world's fair, drawing hundreds of thousands of visitors over that year. As Bill says about life in San Diego, "I've done a lot, learned a lot, and experienced a lot!" We're just glad that Bill and Janet became connected in so many aspects of their careers and are united in their love of San Diego and its Zoo.
More Donor Stories