More Donor Stories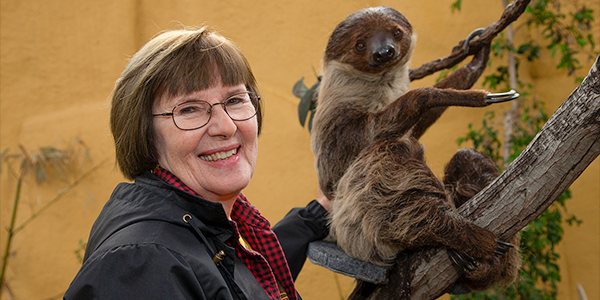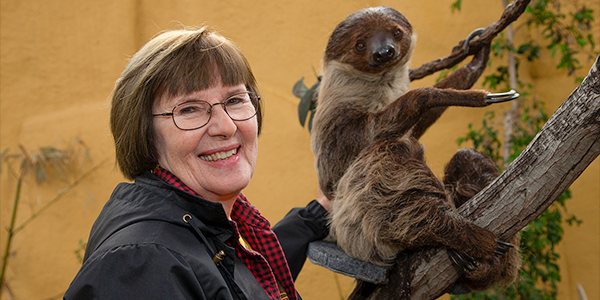 By Mary Sekulovich, Senior Editor, Development Department
Some families are zoogoers from way back, like Barbara Elander's family. Growing up in Detroit, Michigan, she loved visiting its zoo. When she met her future husband, Richard, on the first day of classes at the University of Detroit, she learned he was also an animal lover—and the okapi was his favorite. Barbara describes how his love for the okapi would eventually inspire her first gift to San Diego Zoo Global.
Once their son, Ron, moved to San Diego to start a business in the early 1990s, they began to visit, and when Richard retired in 1997, they made the move to San Diego. One of their family traditions was visiting the Zoo on Christmas Day, so after Richard passed away in 2008, they continued this outing. During their visit on Christmas following Richard's passing, Barbara read about San Diego Zoo Global's efforts for okapi conservation. The next morning, she called our Development Department to make her first gift in support of okapi conservation. After that, she says, "I moved on from there!" Barbara then mentions other areas she loves and supports: leopards, the Northern White Rhino project, Frozen Zoo®, and the Dickinson Family Lifelong Learning Center.
Barbara and Richard created a Charitable Remainder Trust (CRT) together. After Richard's passing, Barbara named San Diego Zoo Global as a beneficiary, leaving the interest to accrue each year as the trust grows. Establishing a CRT offered Barbara a partial income tax deduction, and if she chose, an income stream. More recently, Barbara rolled over a portion of her IRA distribution, taking advantage of the tax break, another mutually beneficial way she supports the Zoo and Safari Park's animals and priority conservation projects. As she explains it, "Once animals get in my head, I want to help where it is needed most."
Barbara had the opportunity to meet Dr. Durrant who heads the reproduction and rescue program at our Institute for Conservation Research. Barbara's late husband, Richard, was a microbiologist who specialized in genetics, so Barbara and her son particularly enjoyed touring the Frozen Zoo. When she learned the team needed a portable ultrasound machine, Barbara funded its purchase. She even saw the machine at work and "met" Edward the southern white rhino calf, viewing his fetus in the uterus on screen. He is the first rhino calf to be conceived through in vitro fertilization in the U.S., a first step in saving northern white rhinos from extinction.
Barbara knows her involvement with the Zoo and Safari Park's animals helped her recover after she lost Richard. For her this has become a dedication, a family legacy. As she says, "People who love animals are good people!"
More Donor Stories