More Donor Stories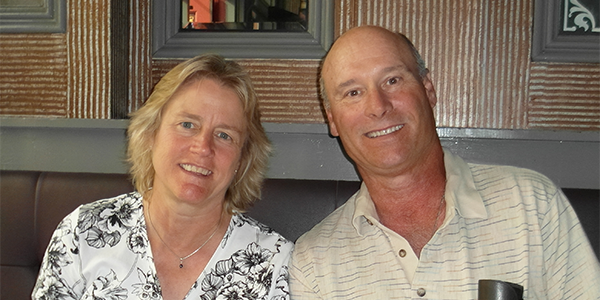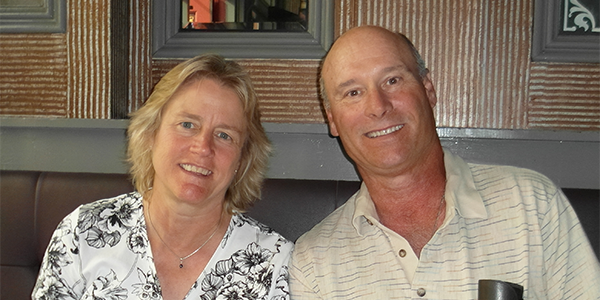 By Mary Sekulovich, Senior Editor, Development Editor
A shared love of wildlife and conservation is a big part of John and Teri's life together. They are on Zoo grounds many days, now that Teri retired as a printing representative and John retired from the federal civil service. She loves being a volunteer, because "the Zoo is phenomenal!"
As a native San Diegan, Teri says the Zoo has been a big part of her life, all the way back to her kindergarten days when her grandparents took her to the Zoo and she felt very special. John heard a lot about Southern California and the San Diego Zoo long before he came here. His career began with the Navy in 1981, in Virginia Beach, and John soon joined as a Zoo member when he moved to San Diego.
Since San Diego is a sports town, it's not surprising that Teri met John at a Chargers football party hosted by her brother, and they have been married for 32 years. Their dual annual membership began in 1998, and later they became Heritage Guild members, President's Associates, and monthly donors for Wildlife Conservancy, while also supporting the Wish List with enrichment items like treats and snow days for the Zoo and Park animals.
John and Teri also recently toured the Rhino Rescue Center and the Institute for Conservation Research at the Safari Park, because they agree that breeding and conservation are the most important elements of our organization. They emphasized their love for the Zoo and its mission, ranking the Zoo as their top priority for support.
Both love primates, especially the orangutans. As a Zoo volunteer on Mondays, Thursdays, and Fridays, Teri is at the Zoo by 6 a.m. and working at an animal station by 9 a.m. For the past 6 years she has been part of the volunteer interpretive team, responsible for 12 animal stations, and now she is a mentor to new volunteers. One of her stations is Africa Rocks, where she enjoys telling visitors about our global conservation efforts.
Every time the couple visits the Zoo on Teri's "day off," they stop to see the orangutans first, because, as she says, "they are on the way to everything!" Both love the new Bashor Bridge, which connects the east and west ends of the Zoo. Then John mentions they often have lunch nearby, in Treetops Plaza, sitting in the sun at a scenic table overlooking the canyon -it's hard to imagine a more perfect day at the Zoo.
More Donor Stories