More Donor Stories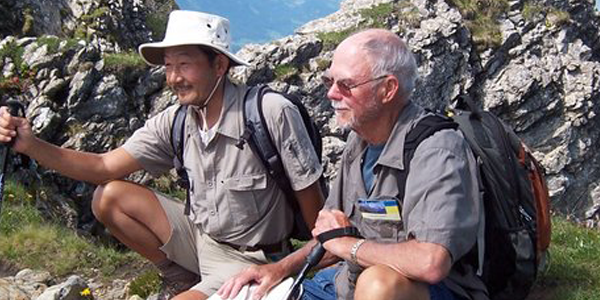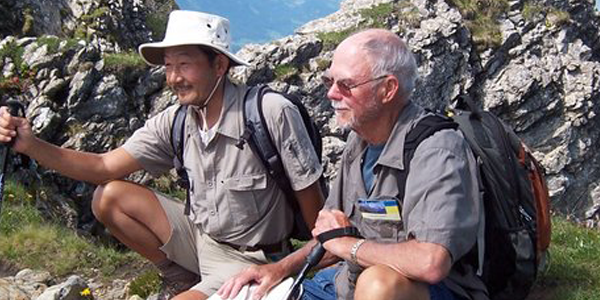 Having the proverbial green thumb is not a myth: some of us just have the right touch to keep plants blooming and thriving. This is certainly true of Robert and Miguel, whose home garden could be a showcase for tropical plants. Add a waterfall, rockwork, ocean views, and you have a serene place to have a conversation. Even more amazing, the landscaping in this garden paradise was entirely created by Robert and Miguel.
A love of plants and gardening is just one of the many interests this couple shares. Robert, a retired middle school teacher who taught U.S. history and ESL, and Miguel, a retired medical lab technician, like to travel all over the world and often return to Switzerland for its scenic countryside. Their favorite hiking is in the mountains above the Lauterbrunnen Valley, also a favorite of travel buff Rick Steves. Both Robert and Miguel praised the country's sheer beauty and agreed that "in Switzerland, the trains run like clockwork-you have fun and see so much!" Recently, they were in Canada, near Lake Louise, for more mountain hiking.
Back in San Diego, they love visiting the San Diego Zoo and Balboa Park, as well as attending theaters, the symphony, and opera. Both agree that San Diego Zoo Global membership is a bargain, and the Zoo and Safari Park get them out more often. Miguel says that koalas are one of his favorite animals, although they always seem to be sleeping! And Robert's favorites include primates-"They are so much like us!"-and birds.
The couple has decided to leave their estate to charity and has included the San Diego Zoo. Robert is passionate about plants and plant conservation, which is another reason he supports the Zoo and Safari Park: "It makes sense to leave your estate so it benefits an organization and also allows others to enjoy it." Miguel is concerned about the health of the planet and feels we need more environmental protections: "We have to do something before it's too late!" He feels the Zoo has been a great source of recreation for the community while improving its conservation efforts to save wildlife and plants.
Miguel recalls a high school field trip to the Zoo-his very first visit-and he remembers thinking it looked like "a lovely green jungle." Today, he is the one with the "primary green thumb," according to Robert. This is why they were able to rebuild their entire spacious garden, front and back, into a tropical oasis with a staggering amount of flowering plants and trees. Love of plants, love of wildlife and the Zoo-after more than 40 years together it is still a lifetime bond between Robert and Miguel.
More Donor Stories