More Donor Stories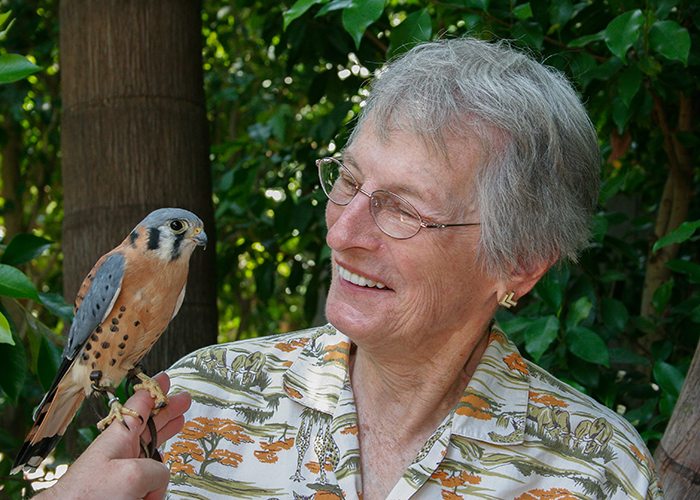 When Anita met Tecuya the American kestrel at the Zoo, the animal trainer said, "You and the bird have connected!"

Who could have guessed that a childhood in Madison, Wisconsin, which included competitive speed skating and many blue ribbons, would eventually lead Anita Burr to La Jolla's beaches and the San Diego Zoo? When Anita came here in the late 1970s to visit a friend—she left Madison in a snowstorm and came to San Diego on a balmy winter's day—she knew there was no going back!

Once Anita was living in San Diego, she asked about the local zoo because she had always enjoyed visiting Madison's zoo. Between finding favorites like elephants, our stunning birds, and amazing botanical collection, she became a member. An avid birder, Anita enjoyed many hours in the Zoo's aviaries. This linked back to her talent for painting birds: her home was filled with lovely watercolors of shorebirds, songbirds, swans, and hawks.

Long before Anita came to San Diego she had several adventurous and pioneering careers. When the U.S. entered World War II, she and an older sister joined the WAVES and served their country. After the war, she trained as a pediatric nurse, then progressed to graduate school and became the first director of gerontology as well as a clinical professor at the University of Wisconsin-Madison.

After more than 30 years as a San Diego resident and longtime Zoo member, Anita still loved walking on the beach at La Jolla and looking for local birds. Once she retired, she knew her estate plan would include the San Diego Zoo because "the Zoo is in my system!" Her visits here often included attending member events or exhibit openings and meeting animal ambassadors like Karroo the cheetah. In 2005, she decided on a Charitable Gift Annuity, which guaranteed tax-advantaged payments for life and would ultimately support wildlife conservation efforts. Now Anita's wishes will be honored for years to come through her endowment, Burr Bird Care at the San Diego Zoo and Safari Park, the perfect gift for all the birds she loved.
More Donor Stories