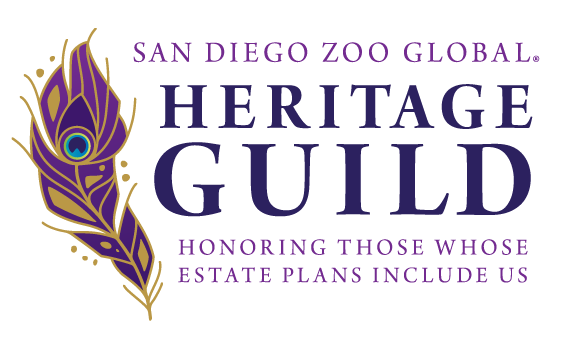 Continuing a Tradition of Support That Began With a Roar
It was the roar of a lonely lion–an animal in need of a home at the close of a world exposition in Balboa Park–that motivated physician Dr. Harry Wegeforth, affectionately known as "Dr. Harry", to found the Zoological Society of San Diego in 1916. Although Dr. Harry's dream was initially dubbed "Dr. Harry's folly" by a handful of detractors, his tenacity and his vision of creating the most innovate and accomplished zoological organization in the world eventually won the overwhelming support and generosity of the community. Today, the Zoological Society (dba San Diego Zoo Global), with its San Diego Zoo, Safari Park, and Institute for Conservation Research, is a world leader in conservation, education, and family recreation, in large part because of the unflagging community support, which often comes to us through planned gifts and bequests.
Recognizing "the Roar"
Whether we are reintroducing a California condor into its native habitat, sharing the wonders of wildlife with underprivileged children or making a scientific breakthrough by developing a life-saving milk formula for giant panda cubs, the long-term support generated through planned giving is necessary to maintain our tradition of excellence and to help us leave a wildlife legacy for future generations. The Heritage Guild was established to honor and thank our friends who have included the Zoological Society of San Diego in their plans. They have done so by naming the Zoological Society of San Diego beneficiary to wills, living trusts, IRAs, and other life-income gifts.
Benefits for Supporting Our Future
In addition to the prestige that is associated with being a member, the Heritage Guild offers many special benefits like:
Attractive membership pin
Invitations to exclusive insider functions at the Zoo and Safari Park
Subscription to ZOONOOZ
Becoming a Member
If you have included the Zoological Society of San Diego in your estate plans, you are eligible to become a member of the Heritage Guild. Please fill out the Heritage Guild Enrollment Form and send it back to us so we can recognize your support and say, "Thank you." Your generosity helps us secure a future for our Zoo and Safari Park as well as our efforts to protect endangered plant and animal species and their precious habitats.
Yes, I have included the Zoological Society of San Diego in my plans and would like to become a member of the Heritage Guild.
Enrollment Form
Zoological Society of San Diego
Development Department
P.O. Box 120551
San Diego, CA 92112
619-557-3947
Donations@sandiegozoo.org