More Donor Stories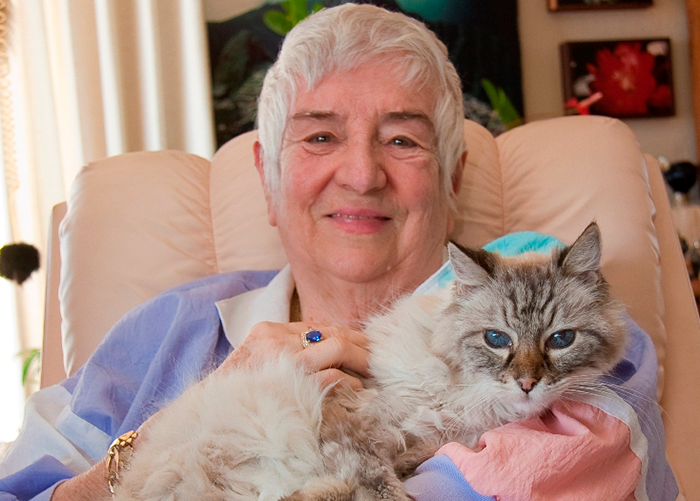 When you first meet Lois C., her energy and enthusiasm impress you: she takes an avid interest in animals, conservation, travels, and her wonderful cat and companion. The walls of her home are covered with stunning photos taken by her late husband and showcase fabulous places like Egypt's pyramids, Rome's Coliseum, and China's Great Wall. In more than 20 years of travel, they visited 130 countries—some more than once—and always found more to intrigue them. Yet they always returned to San Diego, their home for close to 60 years. Their interest in animals and photography naturally led them to the Zoo and ultimately to pursuing life income options at the Zoological Society.
The early years of their marriage were incredibly busy, because they decided to invest in rental property while her husband held down a demanding full-time job: "We bought little houses to refurbish and rent. I would sand, and spackle, and paint and do minor electrical and plumbing repairs—I've even tarred roofs."
As Lois explains it, neither of them was comfortable with investing in stocks, so they decided that buying homes, remodeling them, and renting them was the way to go. It also gave them a sense of control over their retirement investment—and that is a major point with Lois. By trading up, they eventually had many new units, with Lois managing every aspect of it. As she says, it was a great tax write-off, and they got in at a good time for the housing market. After several decades, they saw their investment grow several thousand percent. When it came time to retire, they both decided that selling the properties would eat up a great deal in capital gains tax, so they looked around for new properties that would give them income. Lois adds, with a laugh, that travel was their passion, so they would always need funds for that. Their first trip to Africa was in 1979, and they returned several times because "there is nothing like seeing animals in the wild!"
After her husband passed away, Lois made a decision that since she now had only herself to care for, she would turn to "great organizations like the Zoological Society of San Diego to provide me with more financial security." She wanted to keep her home in good repair and always have extra income to provide for herself and her cat. Applying her business savvy, Lois chose to make multiple life income gifts to the Society over the years. These gifts are rewarding in that they not only provide her with fixed payments for life, they also provide for a brighter future for endangered species. Lois is truly a wonderful friend to us and to the animals, and her zest for life and generosity assure her a wonderful legacy.
More Donor Stories